Azure Berkshire User Group Launch - December Kick Off Event
Online event
Tuesday, 5 December 2023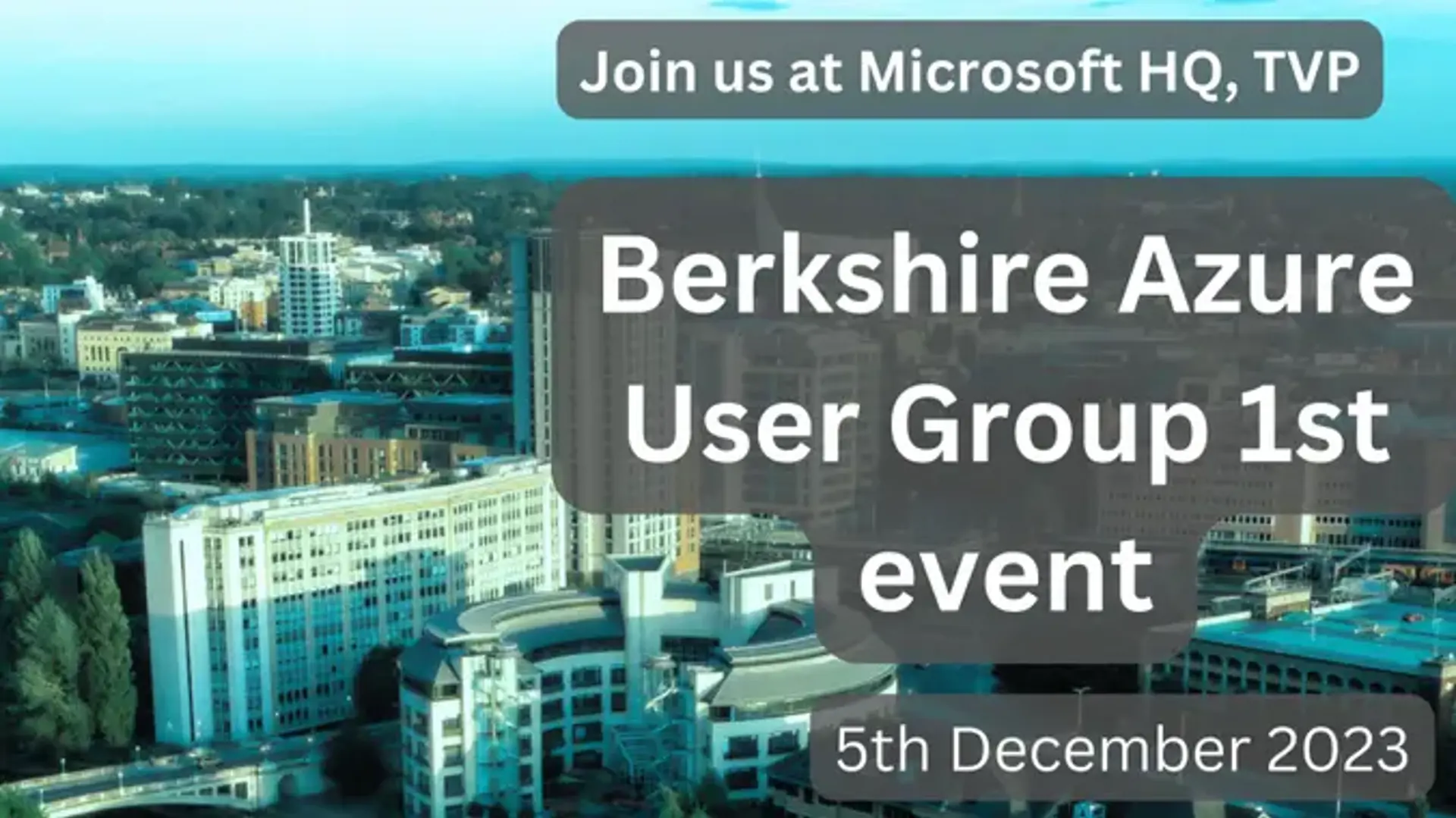 Azure Berkshire User Group Launch - December Kick Off Event
Online event
Tuesday, 5 December 2023
6:00 PM - 8:00 PM Europe/London
Introduction
Calling all Azure and Cloud users near Berkshire!
We're excited to announce our first event for the Berkshire Azure User Group, taking place on December 5th! Join us at Microsoft's HQ in Thames Valley Park, Reading, for a fantastic evening of knowledge sharing and networking (plus free food and drink)!
Speakers
As for our exciting line-up of speakers for the evening:
- Steve Goodman
Background: Presales Cloud Architect, iMeta Technologies Ltd
Title: Getting to Grips with Azure and FinOps
Description: Have you or your organization been caught out with surprise cloud invoices? Have you ever wondered how you can be alerted well in advance of going over your budget? Have you thought, there must be a way to work out these costs before I deploy the resources? In this session, Steve will answer all those questions, and hopefully leave you with some Automation tips to help lower your cloud spend!
- Jonathan D'Aloia
Background: Principal DevOps Engineer, Adatis
Topic: Getting started with Infrastructure as Code
Description: In this session, Jonathan will cover off the importance of using Infrastructure as Code to deploy & maintain your cloud infrastructure, overviewing the flavours available and which may suit your needs best. He will also cover how you can get started using IaC to transform your currently deployed resources, demonstrating how to create concise and reusable code to ensure you can scale your infrastructure with ease.
Venue
Microsoft Campus Thames Valley Park Reading RG6 1WG
Getting here: Getting Here - Thames Valley Park
Sponsor Shout Out
A huge thank you to our amazing sponsor, Transparity, who are really excited to get involved & support the community! If you want to learn more about them, click here!
We look forward to hosting you to our first ever event and building a strong community of Azure enthusiasts in Berkshire! Stay connected with us for updates and discussions through our social media below!
Linkedin: https://www.linkedin.com/company/berkshireazureusergroup/ Twitter: https://www.twitter.com/BerkshireAzure
RG6 1WG

RG6 1WG Reading
United Kingdom
Organizer
Berkshire Azure User Group
Reading, United Kingdom