Online event
Generative AI Day - Mumbai - October 2023
---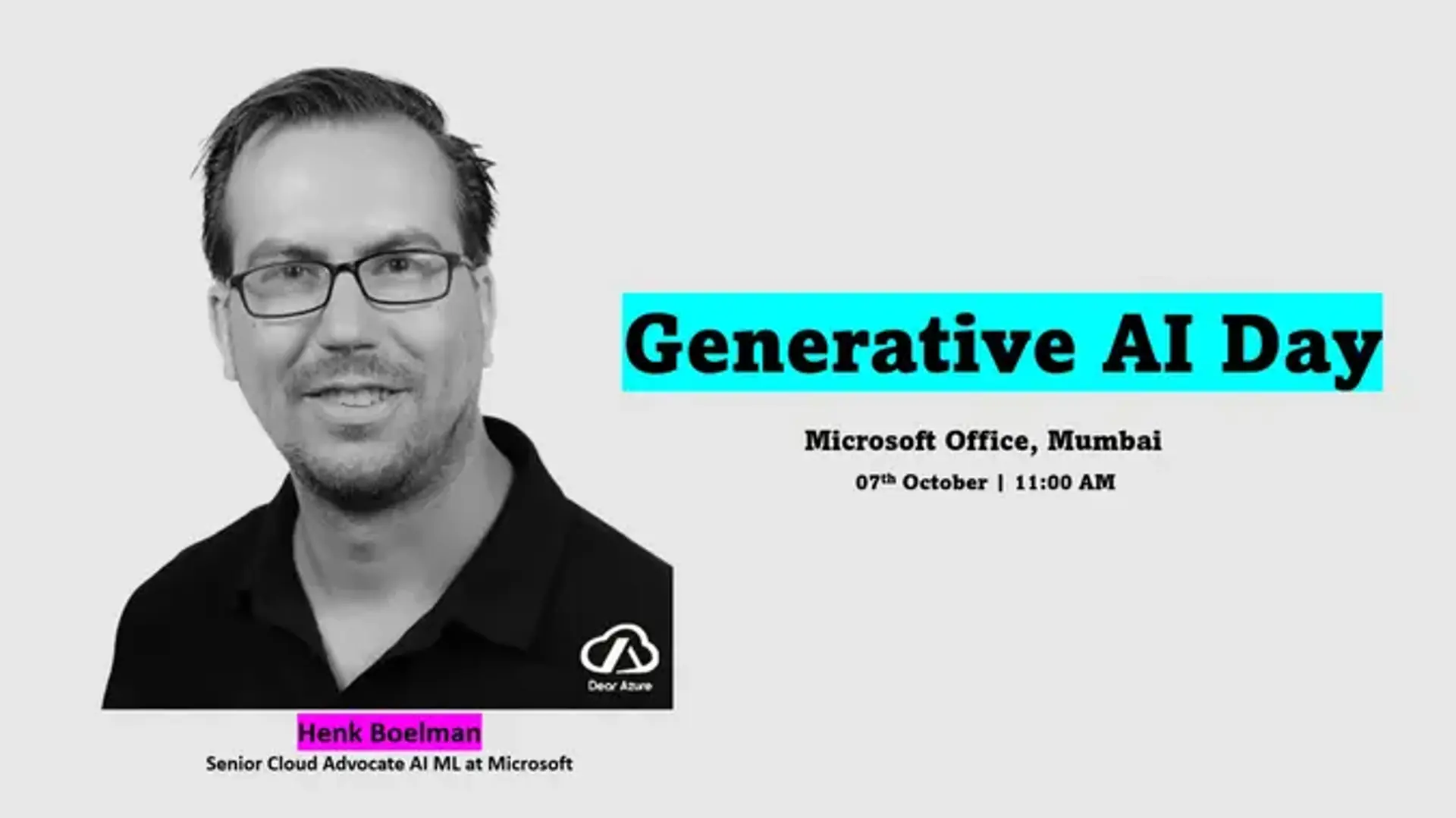 We are thrilled to announce the forthcoming "Generative AI Day - Mumbai -2023" a remarkable event set to take place at the Mumbai Microsoft office on Saturday, October 7, 2023.
This event holds a distinct place in our calendar as it marks the first-ever appearance of Henk Boelman - Senior Cloud Advocate Artificial Intelligence and Machine Learning from Microsoft 🥑in Mumbai, India. Henk participation is a significant milestone, particularly for our cherished Azure community.
"Generative AI Day - Mumbai" is made possible through the generous sponsorship of SpanLabs and Binary Roots, and it is impeccably organized by Dear Azure | Azure INDIA in partnership with the esteemed Pune Tech Community, CodeSizzler, and Microsoft.
This exclusive gathering is tailored for Azure AI working professionals and is, therefore, an invite-only event. We anticipate that "Generative AI Day - Mumbai" will serve as a valuable platform for networking, knowledge sharing, and fostering connections within the Azure AI community.
Agenda:
Session 1: Morning Session
Welcome and Opening Remarks Introduction by Kasam Shaikh
Session 2: Keynote Address
Keynote Speech by Henk B - "Unlocking the Power of Generative AI: A Keynote Address"
Session 3: Interactive Discussion
"Prompt Manners when talking with Foundation Models" by Kasam Shaikh
Lunch Break
Session 4: Generative AI and Responsible AI
"Using Generative AI Responsibly" by Abdul Rasheed Feroz Khan
Session 5: Low Code and AI
"CoPilots in Low Code" by Pune Tech Community Team
Session 6: Fireside Chat and Networking
Fireside Chat with Henk B - Q&A on AI and Responsible AI & Networking Session
Don't miss out on this exceptional opportunity to engage with industry experts, gain insights into the latest trends in, and witn Generative AI and witness Henk's inaugural appearance in Mumbai.
Stay tuned for further details and prepare to be part of this landmark event in the vibrant world of Azure technology.
Thank you,
Kasam Ahmed Shaikh
10:30 AM - 5:00 PM Asia/Kolkata
Microsoft Corporation India Private Limited
Central Salsette Tramway Road
400098 Mumbai
India
Organizer
Dear Azure and AI - Mumbai India Meetup
Mumbai, India